Today
is the official release date of Shiloh Walker's newest book,
Broken
, the sequel to
Fragile,
and she was awesome enough to put out a call for guest blogs and Q&As on Twitter. Even better, she let me ask her a few questions!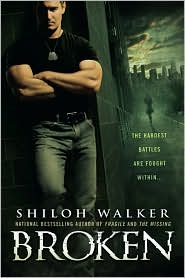 Quinn Rafferty is working as a bounty hunter for a private detective agency in St. Louis when a new neighbor catches his eye. He's drawn to her-but he has his own soul to mend before he can worry about anyone else.

Sarah McElyea is on the run, but not for the usual reasons a woman goes on the lam. She has a plan for her future. And as much as she finds herself attracted to her gruff, tough neighbor, she can't risk telling him the secrets she's hiding.

But Quinn must get closer to Sarah when she turns out to be the target of his new missing persons case, and both Quinn and Sarah will have to expose their true feelings-as well as their fragile hearts-if their love is to survive.
On twitter, you've mentioned using a program called Dragon to write because you have issues with your hands. Is it strange writing with your voice instead of your fingers?
It's VERY strange, and I'm not always able to get in the right mind-set, so to speak. It's still a learning process. For me, it's always just been a brains-->hands thing, the story just flows from the brain to my hands and now I have to teach it to go from my brain to my mouth, so yes.... it's very strange. I hate it. But at some point, it will likely be an absolute necessity-either that, or I quit writing. So I keep plugging along and trying.
I don't think I could get used to that. Do you have any pre-writing session rituals? Things that you just have to have/do before you can work?
Nope. Other than make myself quit procrastinating.... *G* I'm the worst at that...I work better with music, but it's not a must.
LOL. Procrastination, as fun as it is, is a real b!tch to get away from. Is it hard or fun being a full time writer? How different is it from being full time with a "regular" job?
Both, but more often it's hard than fun. The fun is there, don't get me wrong, but it's ten times harder than I thought it would be and there's so much more work than just writing. One thing about writing is that I'm not 'clocking' in so to speak and staying motivated isn't always easy. Anything can throw me off my groove-anything, whether it's a sick kid, finding a slew of people pirating my work or just being down in a funk. Trying to force the creativity to come when that happens isn't easy, and sometimes, you just can't, so you have to give yourself a few hours, even a few days away and just decompress.
The fun, though, you can't overlook that. Talking books with other writers-those who 'get' the voices in your head, talking books with readers who love and appreciate them as much as you do? It's wonderful. It's a great job, and as hard as it is, I wouldn't trade it. For as long as I'm able to do it, I will.
That's certainly good news for us! If you could be one of your characters (male or female) for a day, who would you choose and why?
Oh, none of them. LOL. Sorry. I love my life...I've got a great husband, three kids I love and I love my life-wouldn't swap it out even for a day. Especially considering some of the crap I put on my characters.
LOL always nice to see someone who loves their life! If you could make people (readers and/or writers) understand a single thing when it comes to publishing, what would it be?
It's not a cakewalk-if you want to make it happen, you have to be prepared to work hard and even when you hard, plenty of people aren't going to appreciate that hard work.
Okay, last question! If you couldn't write paranormal romance / fantasy, what genre would you write in?
Oh, I write a little bit of everything already anyway...so I'd bounce to romantic suspense and contemporary, and then I'd come back to paranormal. ;o)
Awesome answer! Thanks again, Shiloh, for letting me ask you questions!
Shiloh Walker has been writing since she was a kid. She fell in love with vampires with the book Bunnicula and has worked her way up to the more...ah...serious vampire stories. She loves reading and writing anything paranormal, anything fantasy, and nearly every kind of romance. Once upon a time she worked as a nurse, but now she writes full time and lives with her family in the Midwest.